Mehiläisten seura koostuu kuudesta taiteilijasta ja mehiläisistä. Se on kestollinen ja elävä taideprojekti mehiläisten ja ihmisten elämismaailmojen risteymistä, herkistymisestä ja taipumisesta toisten rytmeihin. Etsimme ja harjoittelemme uusia työ- ja olemisen tapoja nöyrempään ihmisyyteen ja epävarmempaan tulevaisuuteen. Käytämme etnografisia tutkimusmetodeja, erityisesti inspiroituen monilajisesta etnografiasta, mikä tarkastelee sitä, miten ihmiselämät kietoutuvat ei- ihmislajeihin.
Seurassa on kyse monimuotoisuuden ymmärryksen harjoittamisesta ja taiteellisesta työstä itsessään; vaihtokaupoista, ruumiillisuudesta, kohtaamisesta, ei-kielellisestä kommunikaatiosta ja sitoutumisesta. Mehiläisten seura kytkeytyy syvällisesti tarpeeseen tehdä asioita uudella tavalla; päätyä eri paikkaan kuin mistä on lähtenyt liikkeelle ja nähdä tie ulos näköalattomuudesta, sekä jakaa tämä prosessi avoimesti muiden kanssa.
Me olemme: Aino Aksenja (kuvataiteilja),Ina Niemelä (koollekutsuja, valosuunnittelija, mehiläistarhaaja), Ingvill Fossheim (skenografi, biotaiteilija), Marlon Moilanen (tanssija), Matt Parker (taiteilja, tutkija), Suvi Tuominen (taiteilija, esiintyjä, arkeologi).
Työtapamme ovat systemaattisia ja työläitä, kuuntelevia ja mukautuvia. Mehiläiset kiinnostavat monia ja aloitamme laajan taiteiden, tieteiden ja ammattien välisen keskustelun ja punomme rihmastoja ja siltoja ihmisten, mehiläisten ja suunnitelmien välille. Mehiläisten seura on paikka missä mahdolliset tulevaisuudet muotoutuvat.
Kutsumme teidät iloisiin Tullisaaren ekofeministisiin karkeloihin, ruumiillisiin retkiin ja hunajamaistiaisiin.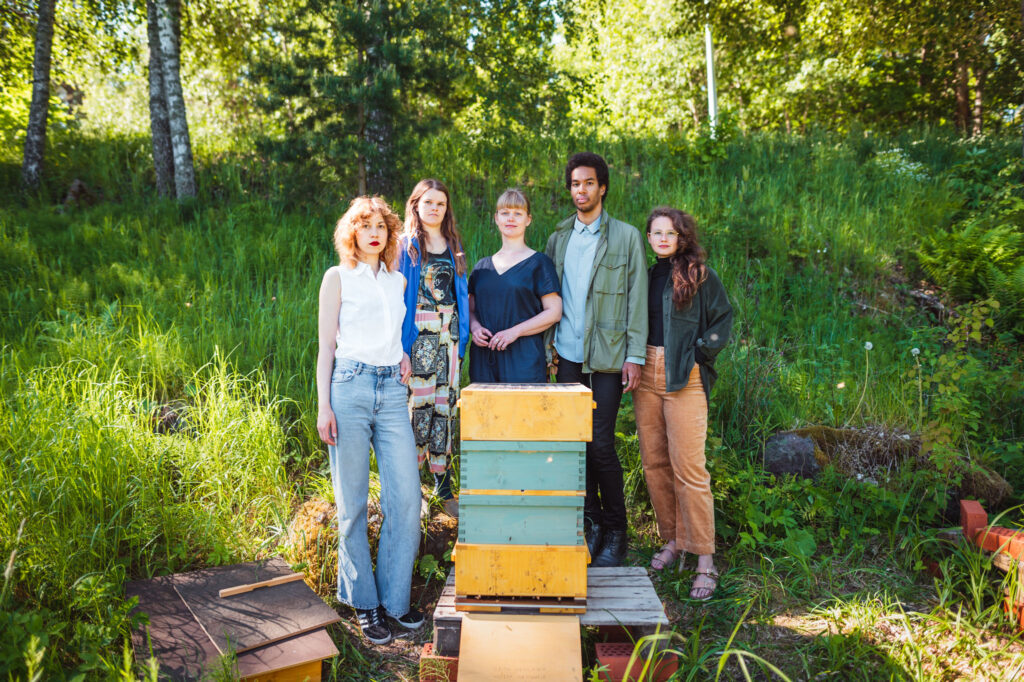 Mehiläisten seura / The Bee Company consists of six artists and bees. We are interested in artistic work as situated knowledge under the precarious conditions of multispecies livelihoods. Particularly sharing lifeworlds and becoming with non-human others. More specifically Apoidea and the practice of beekeeping. Such situated knowledge enables recognition and action on the complex interdependencies of multispecies livelihoods in changing socio-ecological conditions in an epoch characterised by severe environmental disturbances.
The act of slowing down, thinking and performing otherwise are political acts of resistance in the neoliberal work conditions. Our project is a place where possible futures become immediate, as we are unfolding very different planes of thinking about art, artistic practices and art institutions. The Bee Company is deeply connected to the need of doing otherwise; to land onto a new scene and see a ray of light in the lack of prospects; and share this journey in a generous way.
We work collaboratively allowing different kind of voices, interests and contributions. In these precarious conditions we cannot perform in unison, but instead of working alone we have come together in order to unite our forces to occupy space for the bees, our community and ourselves. We will organise gatherings to meet and learn from other residents, artists, scholars and beekeepers. Some of these gatherings/symposiums will be organised in collaboration with the Bioarts Society.
Our work invites everyone in joyful ecofeminist actions and idleness, with artistic quality and insight, looking all the way down to the materiality of the body and the soil.