112 Likes, 35 Comments
October 16th @Tullisaari Park.
A writes at https://www.facebook.com/groups/laajasalo
Since this fallen old oak is going to be kept in place, would it be worth building around it a more beautiful fence to replace those plastic strips? The oak will rot there for decades.
B to A: Why do you even need a fence?
C to B: It's probably to prevent kids from climbing and adults using it as a gym tree, the branches probably won't last🤔
B to C: The children can climb over the fence, it is not holding anyone if they wanna go to the tree. And especially those strings won't stop anyone.
C replies to B: Yeah, I haven't seen anyone inside the strips even though I pass by it every day, parents don't let their kids go in there.
B to C: In my opinion, those strings are but infinitely ugly. Either let that tree rot without ugly strings or lug it away. Trees fall and die, it's just the normal cycle. What difference does it make if someone is sitting on a tree trunk or stump. That's what I've been doing since I was a child. The fact that that carcass is in the park is a problem and therefore needs to be fenced, what a life!
C to B: The tree is 200 years old natural memorial, it can't be compared to every common Spruce.
D to C: The tape doesn't block anything and it's ugly. Fortunately, there are still those who understand that you can't go inside that tape. 100-year-old oak is a rarity in Finland and therefore worth protecting even when it has fallen.
E: Interested in hearing B's view for this. Can the age of a fallen tree be calculated reasonably? When it decays, how long will the age continue to drop? And doesn't the decaying process involve the branches breaking and breaking? So what does age matter after a fall?
F: It's good to have something there to show that there is still a tree that is protected.
G: Would an old-fashioned fence go better than construction site strips?
H: That's right – those stripy strips are ruining the whole area.
I: Could I grow new oaks!
J to I: There are dozens of little oaks around the oak already.
I to J. Wauu! Nature takes care!
Q: There really could be some more beautiful ribbon or fence, as the intention is to leave the old fallen oak in place to rot.
L: Message to the city park department to go…
M: That should be done.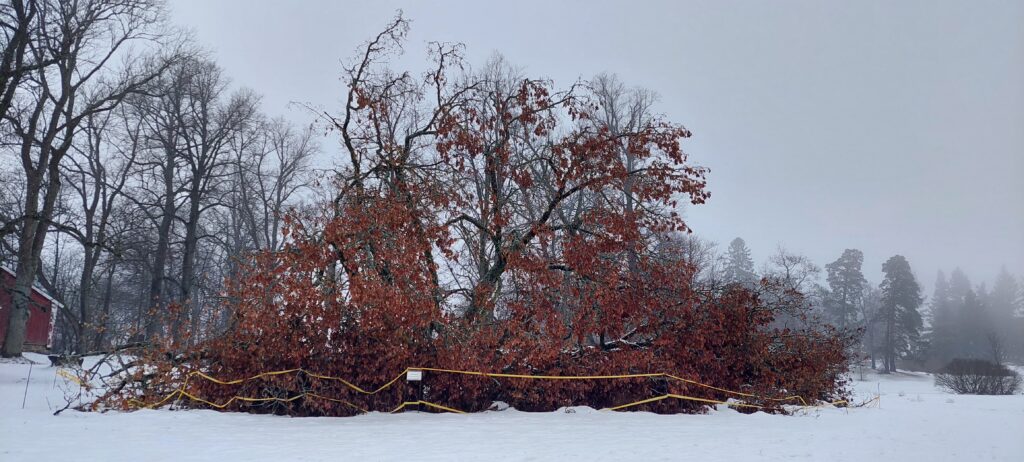 N: The lawn in the park is a wrong place for a decaying tree. The tree was protected as it grew, there is no longer a need for protection. It could be moved away from the treated area at least, i.e. somewhere nearby.
O to N: There is a story in this fallen tree. This is not about rotting.
N: I don't think the story will end gloriously if the tree is left to rot in the middle of an otherwise well-kept park. There is no habit of leaving trees to rot in parks. It would be great if there was a carpenter in Laajasalo who could create a lot of new objects and stories from the wood.
P to N: There may be a little surprise for these protectors and keepers, when the little one is lying quietly, it will soon darken and rot and then it will be nice really nice to look at. And when it comes to carpentry, they're so expensive guys that there might be no market for chisels or other useful item. I had a grandfather in Hålvik who was a carpenter (pictured with Hilja Matilda) but he moved to his last workshop as early as the 1960s …… [picture of a grandfather with Hilja Matilda].
Q: Crazy. Apartments should be built here because of climate change and the crowd is coming in like never before.
R to Q [GIF where handkerchiefs are handed]
S: Years ago I picked up acorns of 'Tullisaari's mighty', they spent the winter in the fridge and then moved to my cottage, where they grow and become more handsome next to the 'shelter trees'. :. :.
T: I am in favor of sawing the branches and protecting new seedlings and soon we have an oak forests on the shore – fallen birches and electric poles should be removed though.
U: I understand it's about nurturing nature, a fallen oak provides a livelihood and a place to live for many amphibians. The human aesthetic eye has a problem; Of course, those plastic strips are ugly. Some real anchor rope, etc. to surround the deadwood?
A: Couldn't it be sold to a carpenter and it would continue its life, for example, as a table or chairs? The park is not a natural forest where fallen trees are left to fall.
X to V: Good idea. Most of the oak is hardwood that will decay for decades, of course, but is there a need for the resulting CO2 emissions?
Y to V: Maybe the carpenter could make something for the park or for Aino Acte's villa. A sign next to the removed carcass stating where it has been taken and how it will be used. The branches could be taken across the road to the woods. There are other fallen oaks there as well.
V to Y: Good idea.
Z: Ping Anna Elina Nummi? 🤔 1
Å: It is difficult to estimate which one is less disturbing in the park landscape, the tree or the strips, when it is not a natural area. Both should co to recycling. Really potty decision-making from the Helsinki park department.
Ä: That there is like an ancient giant creature. Let it peacefully rot and refine local biodiversity with its thousands of little helpers who already inhabit it. Birds also benefit from them. Would the obsession with the man fixing, just about everything, give in at this point, and just let this tired giant and his many friends take care of themselves. Its progressive state could then be made into a fine nature documentary, even a study in biology! There could be fairy-tales told of ancient worlds for children and lectures on the hidden life of trees for adults. After all, this old giant has seen what has happened in Tullisaari 300 years ago! So it is not just any timber. Stories from ancient times were told alongside it. A good gathering place for stories. Let's build around it a traditional wooden fence and a big hut where to gather for stuff..Could we be a little creative for once ..,
Ö: The yellow-red warning tape is collected for recycling and replaced with a new ribbon. The ceremony will be held during Midsummer Week 2022. Best wishes from Bee Company .
Anna Elina Nummi is a project planner for the urban environment of the City of Helsinki.