Risk Assessment
I travelled from the UK to Finland during the pandemic. At the time of travel UK residents were required to have special exceptions in order to enter Finland. I negotiated, with the assistance of The Bee Company and Kone Foundation, to be offered special cultural representative status in order to work for two weeks at the Saari Manor.
Whilst in the UK, I was required to complete a risk assessment matrix that would identify the level of risk that a trip for a residency with The Bee Company would incur. It is these bureaucratic measures of risk that have left many nations and people across the world in desperate, difficult circumstances during the past year and a half. How should we quantify and qualify risk during a global pandemic and how do we quantify and qualify reward? Are risk and reward antonyms? Is it a roll of the dice, or it is something that can be managed, quantified and revised? Hyper managed? How do honeybees manage themselves? Is there a leader? A consensus? A biological imperative? A monarchy?
What does it mean for me to be considered a cultural representative for the UK and Finland at a time like this? How vital is my work at a time like this? What contribution to the cultural economy of both Finland and the UK would my presence at the Saari Manor for two weeks offer? Should I be taking this business-like approach to an artistic collective? Why are we called a company? Are we a performing arts company? A capitalist enterprise? A group of people in good company. A secret society of apoidea worshippers? Perhaps we are all of these things and none of these things. Would two weeks in the spacious nature and generous facilities of the Saari Manor help define this further? Why is this report open with so many questions? Why don't I have any answers?
| RATING | CONSEQUENCE | | LIKELIHOOD | |
| --- | --- | --- | --- | --- |
| 5 | MAJOR | Death, Major damage to buildings | VERY LIKELY | Almost certain to happen, is happening now |
| 4 | HIGH | Cause permanent disability | HIGH | It has happened in the past year |
| 3 | MEDIUM | Temporary disability, eg fractures | MEDIUM | It has happened or is likely to happen within 2 years |
| 2 | LOW | Significant injuries, bruising, sprains | LOW | Is unlikely to happen in next 2 years |
| 1 | MINOR | Minor injuries, cuts, scratches | IMPROBABLE | Very unlikely to happen |
Risk Management Codex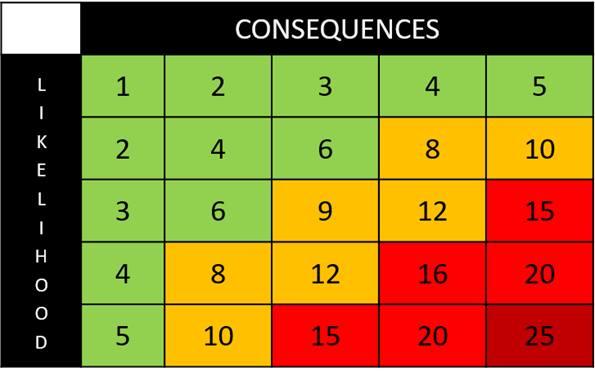 Uncalculating Risk
What about other types of risk? What about emotional risks? What about the value in taking a risk?
This is where I feel like the Saari residency with The Bee Company is excelling. It is an exercise in risk taking. We take risks together through exercises in trust, through the practice of going slow, through learning with and for each other, through trying new things, or opening ourselves up to one another and becoming vulnerable in order to explore a practice or a method or methodology that interests us. We take risks through sharing this experience together, and through not trying to force the issue.
This is the theory anyway. The Bee Company always aimed to only ever be somewhere else to where it started by the end of the residency. The Bee Company always stated that The Bee Company wasn't about making artwork about bees. And yet, we ended at the same place we started, the Saari Manor. We discussed honeybees extensively, developed movements for a potential future performance, made recordings inside beehives and generally thought of ourselves in relation to bees, and other critters that our spirits aligned with.
What is there to come from exploring a group residency where there was no major agenda other than to get to know one another and one another's practices, approaches and inspiration in their individual work? We drafted dream scenarios of what happens after the residency. Could we commit a mid-term future together exploring the lifeworlds discussed and investigated during the residency?
But what did you actually do there?
We arrived and agreed a shopping and food protocol. We made indicative recipes and a rota for evening meals. Our daytime meals would be individually managed, but there would always be a breakfast option if desired. Food was and is a critical force for The Bee Company. We agreed a schedule drafted by Ina for workshop activities. We each ran a workshop which introduced the other members to an element of each individual's practice or 'where they were at right now'. We navigated the Saari manor in an interdisciplinary and multi-sensory mode. Smell, Sight, Sound, Taste, Proprioception, Dreams, Fantasies, Mapping, Mapping Mapping and more Mapping. We formed an alliance of mapmakers, mapping the landscape, the schedule, the connections between one another and other critters, and our psyche, ecology, environment… an economy of noise. I hugged a granite boulder. Performed haptic cartography on Marlon's body. Sensed the flow of honey through my body. Found a smell and tried to contain it in a box. Created a backstory for a spooky building in the woods. Melted my bones. Listened deeply. Howled at the moon. Explored dreams and imagined sanctuaries. Walked at night. Listened to an all-male choir. Danced at a honeybee rave. Uncovered new knowledge about a local archaeological site of importance. Waxed a honey bee hive box and weaved a skep. Cooked. Washed the dishes. Washed myself. Copious saunas. Kept returning to the bees. What of the bees?
My hope is that we can reconvene in spring 2022 where our lifeworlds will come together once more, this time in Tullisaari Park, in Helsinki. Home to The Bee Company's honeybees and gardens. We will perhaps stage a performance that reflects on the risks taken, in the organising, and organisation of The Bee Company. Perhaps we will have honey. Perhaps there will be dance, music, vegetables, flowers and sound installations. Perhaps there will be film. The world still feels very open.
Something I have learned from attending residencies is that it is rare that any idea or work matures during a residency itself. It may be months later that the ideas coagulate and form into something exciting… the hallowed ground of the 'output'. It might take even longer with The Bee Company. This is fine. This is how The Bee Company wants to be. Aspiring to perform, always performing, taking risks, flirting with the system, or finding ways to play a different hand altogether.
Amongst this group is realism. Nobody wants to work for free. Nobody wants to be taken advantage of. Nobody wants to quit The Bee Company. Within our ranks, a passionate beekeeper and skilled lighting designer. One of the most exciting Finnish dancers of their generation. A performer, choreographer and archaeologist of incredible depth, sensitivity and imagination. A set and costume designer with a deep knowledge of sustainable materials. A fine artist with gardening and flowering as a critical practice. A sound artist who wishes to listen and encourage others to do the same. An interdisciplinary company of makers, doers and thinkers.
The Bee Company.
---
Black pepper, tofu and broccoli stir fry recipe for 5 people:
3tbsp black pepper crushed
3tsbp white sugar
Ginger finely chopped
3 garlic
5 spring onion
1 white onion diced
6tbsp butter
Cornflower
6tbsp soy sauce dark
6tbsp soy sauce light
350g tofu
1 large broccoli
1 red chilli
Rice (steamed)
Slice tofu into cubes. Dust with cornflower. Fry in vegetable oil. Remove from pain and drain. 5tbsp of butter, onion, garlic, ginger in large pan. Fry until soft. Add pepper and sugar. Add soy sauce. Add broccoli. Add chili and spring onion. Add tofu. Add 1tbsp butter. Serve with rice.