Mehiläisten Seura / The Bee Company
Written by Suvi Tuominen, artist, curator, archaeologist, choreographer, dance per-former
31.7.2021
This report looks into the question of organising and organisation in The Bee Company. It is written with contradictory feelings, that at the moment unfold into two directions. On the one hand, the residency period has been wonderful, soft, energising and full of rest. On the other hand, the residency period has been consuming, energy sucking, laborious, full of internal conflicts and hesitations.
I am artistically interested in the emergent relationships between various artistic methods, theoretical readings and structures of production. Therefore, for me these contradictions are somewhat essential in the analysis and reflections regarding artistic work. So, instead of looking away from the contradictions I want to write about them. After all collective art making is all about these relationships and negotiations happening in between contradicting emotions. We are in this way more human-like than bee-like.
The Bee Company conceptualised their research trajectory for the Saari residence with the following words ''…our goal is to end up in a different place from which we started off…''
A two week intensive artistic work together is inevitably doing so. There were few pre-conditioned strategies that were used as organisational tools for the company in order to achieve this research trajectory.
1. a time table draft.
2. assigned times for each artist to host a workshop.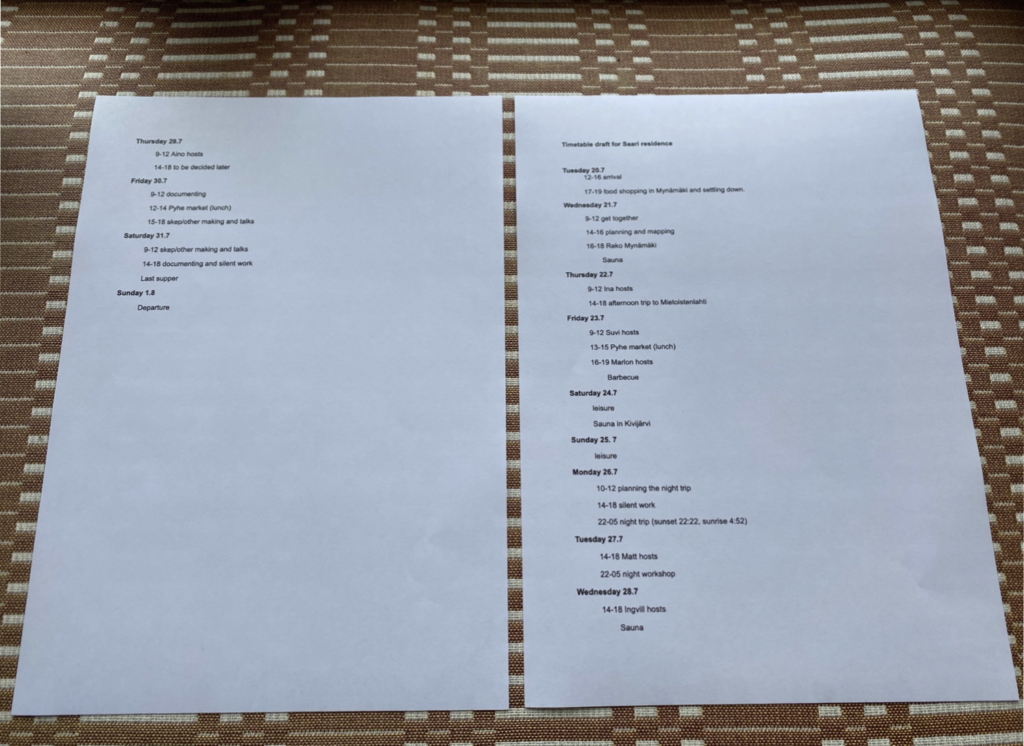 3. assigned times for collective work.
4. assigned times for leisure activities.
These modes of communicating organisational activities for The Bee Company failed drastically throughout the two weeks. Note, that the concept of failure is not used in a negative sense, but rather as something that is the reason for the unexpected to emerge. To fail with schedule drafts is quite common in porous artistic collectives, and also, I would claim, in process-oriented artistic activities.
For The Bee Company the failure happened sometimes because of weather, sometimes because of unstoppable improvised lectures, sometimes because it was not clear what is leisure and what is work, sometimes because a taxi never arrived, sometimes because we simply forgot to ''speak about it'' collectively, sometimes because we were ''speaking about it'' too much collectively.
It was clear for everyone in the Bee Company that due to our theoretical framings and references it would be somewhat contradictory even to follow a rigid schedule. The condition of failing in front of too restrictive organisational tools was set collectively. Or rather, in the collective consciousness. But to be quite honest, for me such decision requires more work, labor and space for exchange were the ''it'' is continuously deconstructed. So to be honest, working collectively is a total post-structuralist mess.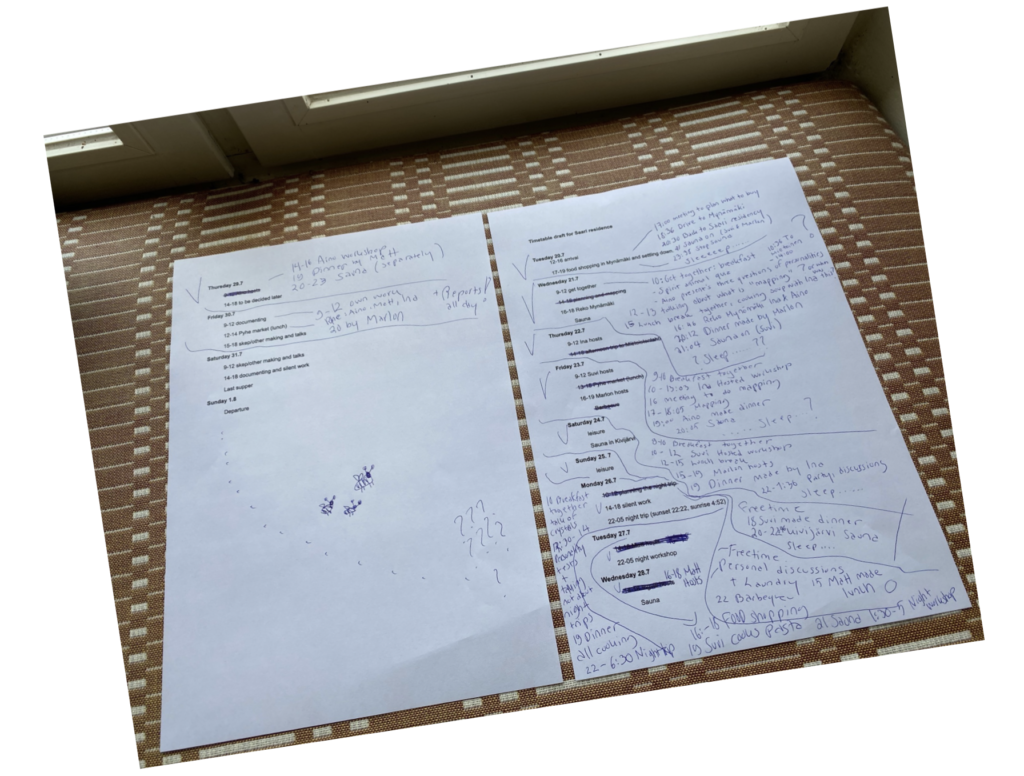 But wait let me hold my horses now!
Deconstructing in this case does not mean that in the collective we try to get rid of our collective history. But rather, the conditions where we fail either as a collective or as individuals need to be deconstructed in order to make that history of failing matter. This is to me politically transformative and therefore, The Bee Company seems to be making politically progressive art, looking straight into the questions of collectivisation.
Emergent
Question: What does company mean for us?
Question: What are the hidden power relations and hierarchies in the company?
Question: How does bees fail in schedule drafts and what are the consequences of it?
Question: What is the queens role in the Bee Company and in the Hive?
Question: How much space do queens take in the Bee Company and in the hives?
Question: How do we hold space for failure, vulnerabilities and accommodate different needs?
Question: How do we do this without talking?
What is especially interesting for me to work in this company is that we are not trying to solve these matters in one night. Speaking, talking and reflecting the modes in which all forms of organising, whether it be physical intimacies, discussions or collective decisions, happen is extremely important when making (for me) interesting art.
Visual artist and researcher Karolina Kucia has focused a lot on organisational roles and made also special notions around different modes of organising in the arts. Her work is a great inspiration for me and and I could sense how her insights would also assist The Bee Company forward with these organisational abstractions that do eventually also condition the very materiality of our future works.
Next we need to discuss further Spirit animals in The Bee Company, Gossips, Private conversations within collective work situations, toxins and parasites.
But that will be another longer blog post!