Park/forest/garden/meadow honey from Tullisaari.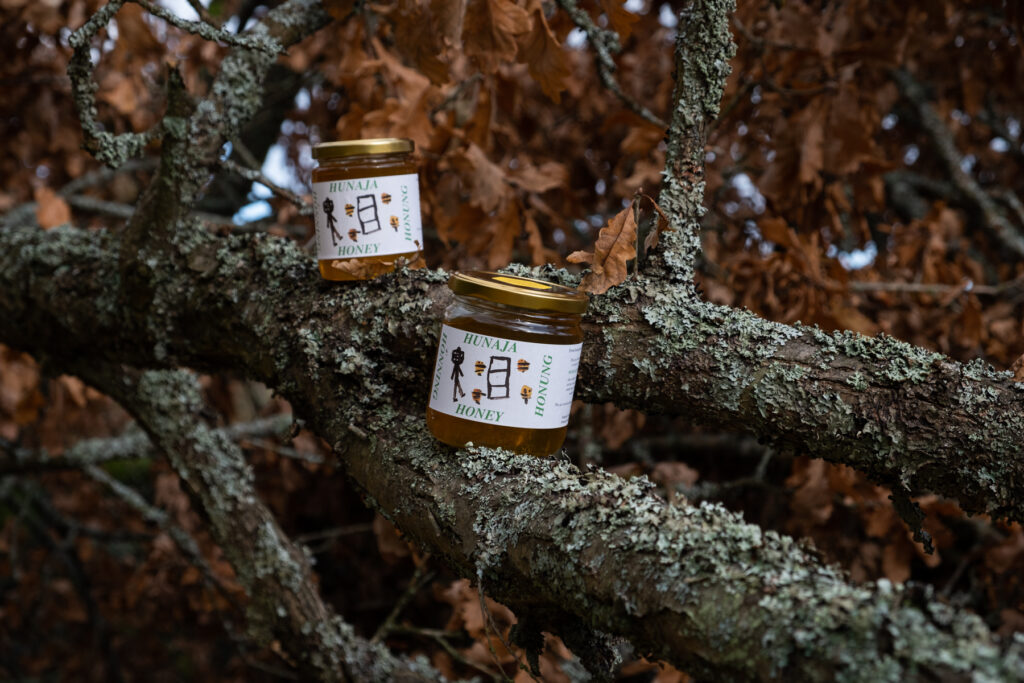 Mehiläisten seuran hunaja on kaupunkihunajaa parhaimmillaan. Pesien lähistöllä kilometrin säteellä on viljelypalsta-alue, metsää, niittyä, puutarhoja, useita metsälehmuksia ja puiston istutusalueita. Erityisen surisevia kesällä olivat puiston Paatsamat. Linkosin seuran hunajan jo elokuun alussa, ja vaikka loppukesän hyvät keruusäät tuottivat lisää satoa, jätin syyshunajat mehiläisille talviruoaksi. Bee Company's honey is urban honey at its best. There are allotments, forest, meadows, gardens, park vegetation, many Salix and Tilias within the radius of 1 km. Especially buzzing were the Frangula alnus bushes in the park. I extracted a set of honey in the beginning of August and due to warm weather a lot more honey was foraged after that, but I decided to leave it for the bees.
Seuran hunaja voitti kolmannen palkinnon Stadin tarhaajien sadonkorjuuillan hunajakisassa 15.9. Osallistujia oli 15, joten jaettu pronssi tuntui mukavalta. Voittoisia hunajia yhdisti monimuotoinen lajisto pesän lähettyvillä. Bee Company's honey won the third price in the harvest fiesta of the Beekeepers of Helsinki. Because there were 14 other contestants with their excellent honeys, I was surprised yet pleased for us. All the honeys awarded were from places with diverse nature.
Kuvan hunajapurkit lepäävät Tullisaaressa 20-21. syyskuuta välisenä yönä kaatuneen tammen oksalla. Aiemmin viikolla puhaltaneella Aila-myrskyllä lienee ollut osuutta asiaan. Kyseinen tammi oli suojeltu luonnonmuistomerkiksi tasan 64 vuotta aiemmin. Sen tarkkaa ikää ei ole selvitetty, mutta sen arvellaan olevan n. 200 vuotta vanha. In the photo above the honey is sitting on the branches of an oak that fell after the Aila storm during the night of the 21st of September, exactly 64 years after the tree was conserved. It's exact age has not been dated, but it is estimated being approximately 200 years old.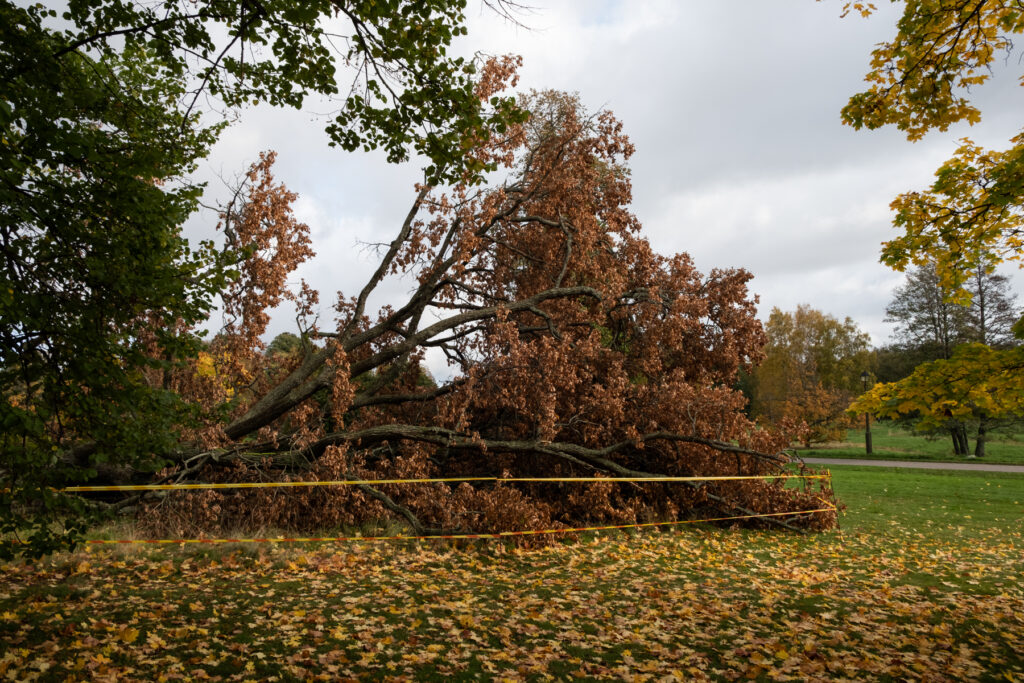 Osallistuin sunnuntaina 27.9. 2020 Helsingin kaupungin järjestämälle Puun päivän retkelle Tullisaaressa ja kaupunkiympäristön projektipäällikkö Elina Nummi kertoi ilokseni, että monet asiantuntijat suosittelevat kaatuneen tammen jättämistä puistoon lahoamaan luonnonmuistomerkkinä. Lahoavan puun lajisto on moninkertainen elävään puuhun verrattuna. Suomen oloissa suuren tammen lahoaminen voi kestää jopa 20 vuotta ja tuoda puistoon täysin uusia lajeja. On an arbour day and on my birthday 27th of September, I took part in a tree tour in Tullisaari park organised by The City of Helsinki. For my great joy I was told by the city's civil servant Elina Nummi, that the tree will be left to decay where it fell as natural memorial. The amount of species in an oak decaying is multiple to a living one. In Helsinki latitudes it may take nearly 20 years for a large oak to decompose completely.
Helsingin luonnonmuistomerkeistä ja tärkeistä luontoalueista löytää valtavasti tietoa mm. kaupungin luontotietojärjestelmästä. You can find out more about the natural monuments and (officially acknowledged) ecologically important areas in Helsinki from the Nature Information System.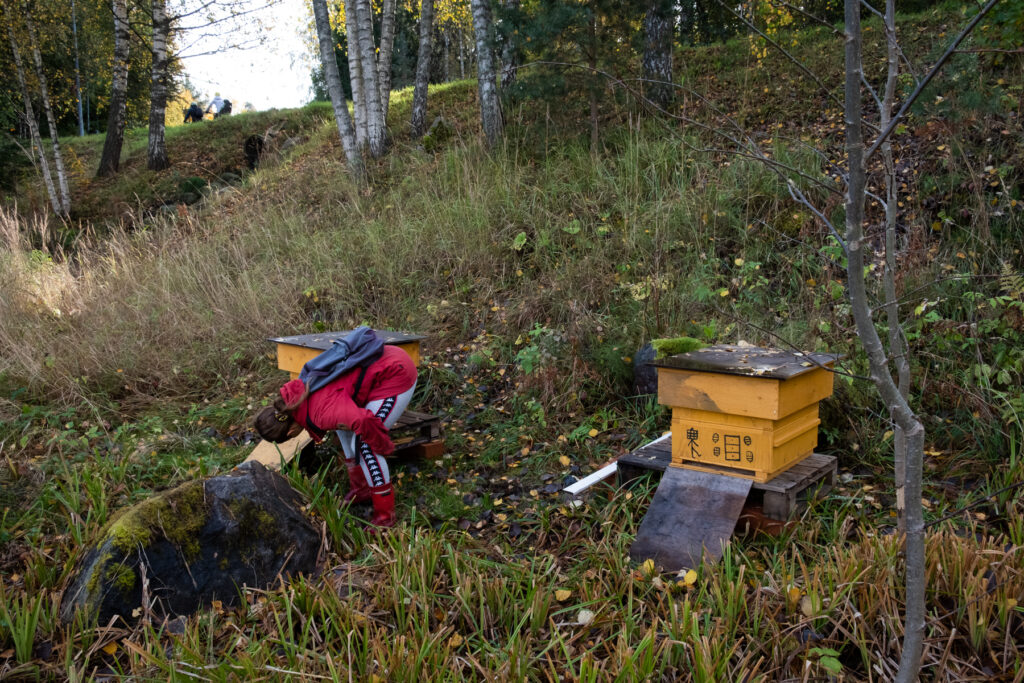 Jos olet kiinnostunut seuramme hunajasta voit ottaa minuun yhteyttä (p. +358 40 7175011). If you are interested in the honey, contact me!
-Ina